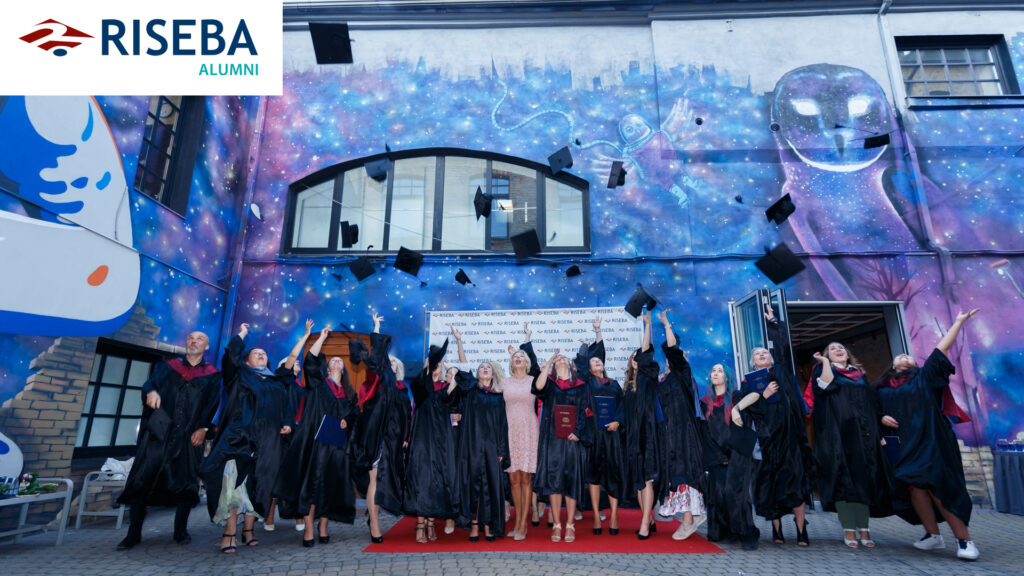 Graduates always stay connected to the Alma mater. The alumni 'relationship with the university continues long after it is completed. The stronger that bond, the more graduates and high school get. To keep up to date with what's happening, you can find out Alumni's current news on the website and regular alumni news outlet.
The main pillars of the university's RISEBA cooperation with graduates are:
Communication. Involvement. Growth. Support.
Communication is a priority for graduates to know about events that are relevant to themselves. If you don't yet receive news in your email for graduates who are sent out at most once a month, please fill out the news application form HERE.
And keep up with the news on RISEBA Alumni's social networks: Facebook and LinkedIn!
RISEBA wants to bring its alumni into guest lectures, career day events, the Mentor Club, various stocks. We are waiting for you and want to hear your experience! For example, we want to hear about your achievements in the guest series "career experience stories."
Seminars for Alumni are also organised. in the 2020/2021 school year, the theme was self-growth and graduates working in self-growth who are coaches shared their experiences and advice. Due to COVID-19 restrictions, both these seminars took place remotely, but we hope to gather face-to-face in the future.
In order to promote growth and further learning, we offer rebates to RISEBA graduates for further education, lifelong learning and also academic study programmes.
RISEBA'S ALUMNI mentors Club provides an opportunity to get involved by becoming a mentor to a student to pass on their experience and help cope with life's challenges.
RISEBA's 30 th anniversary year has begun, so there will be even more opportunities to get involved – there will be a special rally for graduates: HERE you can sign up for the news.
Support for students, projects, as well as Alumni itself can be implemented through the association RISEBA Alumni. This year, for example, we call for support for an animal shelter in "paw paw."
The association "RISEBA Alumni" is an organisation representing the interests of RISEBA graduates, in which any graduate can enroll at no fee.
RISEBA Alumni Properties:
Society RISEBA ALUMNI
TAIL No: 40008194880
Address: Meza Street 3, Riga, LV-1048
Bank: A/S Swedbank
Account No: LV22HABA0551035698046
Bank code: HABALV22
The RISEBA Alumni mentors Club has been set up to allow existing university students to receive personal support from a graduate who has agreed to become a mentor. Typically, meetings with a mentor take place remotely once a month, the mentor shares his or her experiences, listens, advises, supports and helps the student improve, and this is useful for both personal and professional development.
We encourage graduates to become mentors to our students. To become a mentor and join the RISEBA Alumni mentors Club, an applicant must meet the following requirements:
experience at work and completed university studies at RISEBA;
the willingness and opportunity to listen and give feedback to the student remotely once a month;
knowledge of their field, career and/or personal development;
the possibility of meeting with other mentors once every six months.
If you're a RISEBA graduate and want to join the Mentor Club, write to email [email protected].
To keep our alumni in touch, it's important to keep our alumni contacts up to date. FILL out the communication form here and forward it to your study mates as well.
Anna Kvelde
Student career Growth and alumni program Manager