RISEBA university gains the prestigious gold category of the "Sustainability index 2022"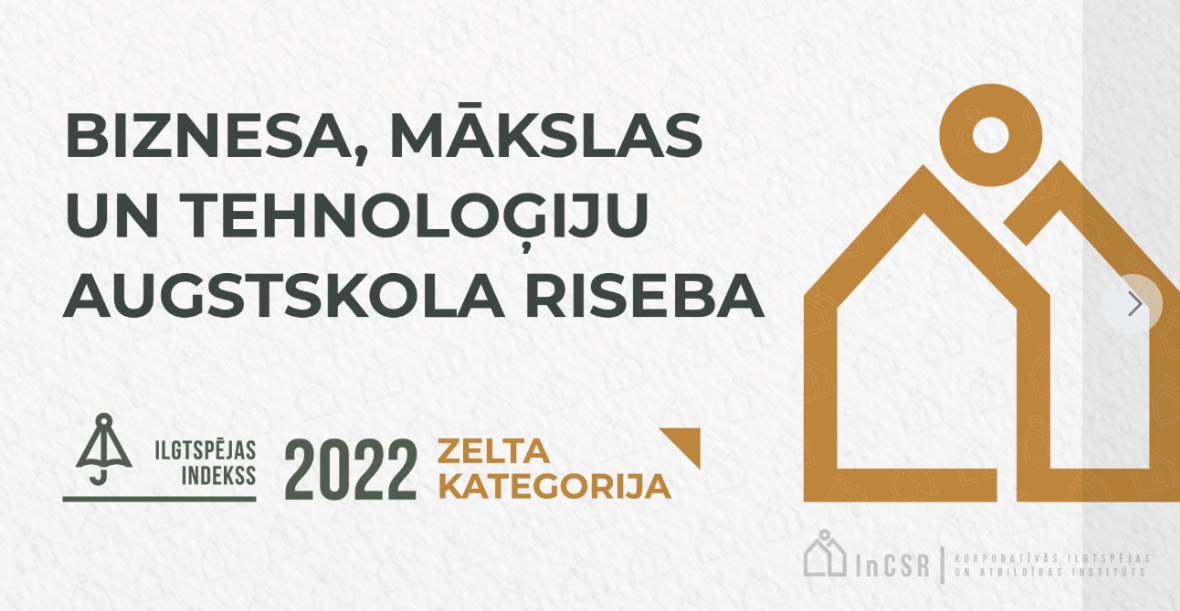 Business, Arts and tehnology university Riseba is pleased to anounce that we have won Corporate Sustainability and Responsibility prestigious gold category "Sustainability Index 2022"!
What is sustainability index ?
The sustainability index is a strategic management tool based on an internationally recognised methodology. This helps Latvian companies to diagnose the sustainability of their activities and the level of corporate responsibility. At the same time, it provides objective criteria to society, state and non-governmental organisations to praise and support companies that help to strengthen Latvia's economy in the long term.
Sustainability index participants demonstrate courage and commitment to improving their performance. It is the organisations that are able not only to influence the development of their sector but also to contribute to the sustainability of the country.
It should be noted that the same as in sport, it is not easy to reach the highest peaks in the Sustainability Index, as demonstrated by the feedback of the participating companies and by statistics. But that's not impossible. Motivation is important. And it is good to know the answers to the most important questions, as well as the experience of the participants in the evaluations of previous years.
About the award
The results of the sustainability index are traditionally announced in June – it is annual closing event taking place in the framework of the Responsible Business Week. Since the aim of this assessment is to boost business growth rather than rivalry, only the categories of companies is made public, depending on the figures they produce: platinum, gold, silver and bronze.
Members of the sustainability index, which yields a lower score of 40%, aren't published. However, like the rest of the companies, they receive expert recommendations to improve their sustainability, enabling them to participate in this assessment again next year.
About InCSR
The "Corporate Sustainability and Responsibility Institute" (InCSR) was founded in early 2011 with a goal to strengthening the sustainable development of the state and local community by educating society, raising its awareness of responsible and forward-looking action, and promoting the development of civil society.
We are proud of what Riseba team have done and the investment in the futere is remarkable!
Every RISEBA student also has the opportunity to contribute to sustainability by applying to the "RISEBA Eko padome" and carrying out activities.
If you are also interested in ecological sustainability, resource conservation, climate change and the assessment of the natural world, join us!
Valērija Kozlova
Student Recruitment Project Manager