New Technical equipment in the Faculty of Architecture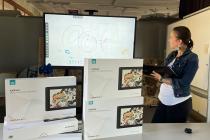 On the 23rd of May, RISEBA Architecture Faculty received a number of modern equipment that will further improve the learning process and provide new opportunities for students.
The new equipment includes an Avtek TS 7 Lite 75 interactive touch screen, which facilitates both the presentation of group work materials and the interactivity of lectures. The screen is complemented by the J000233 Multibrackets M Public stand and the Floorstand Basic 180 floor stand, which provide mobility and stability in different learning environments.
The portable 3D scanner Shining Einstar accelerates digitization by capturing details of complex models, which will help students transfer models more quickly and easily into the digital environment. In addition, five Huion KAMVAS 16 Cosmo Black graphic tablets will enhance the digitization of student workshop materials and group work presentations, allowing project materials to be created and shared more quickly. Students will also be offered the opportunity to learn with RedBox VR 5 Pico 4 and Enterprise Glasses virtual reality glasses. These virtual reality technologies will allow students to explore and visualise design concepts in new dimensions.
The vision of Zane Vēja, Director of the Bachelor Architecture programme, is to create a digital workspace that combines architectural creativity and technological insight. Thanks to these achievements, RISEBA Faculty of Architecture now offers a more modern learning environment, preparing students for success in the constantly evolving field of architecture.