How did RISEBA client specialist anastasija become the head of the study department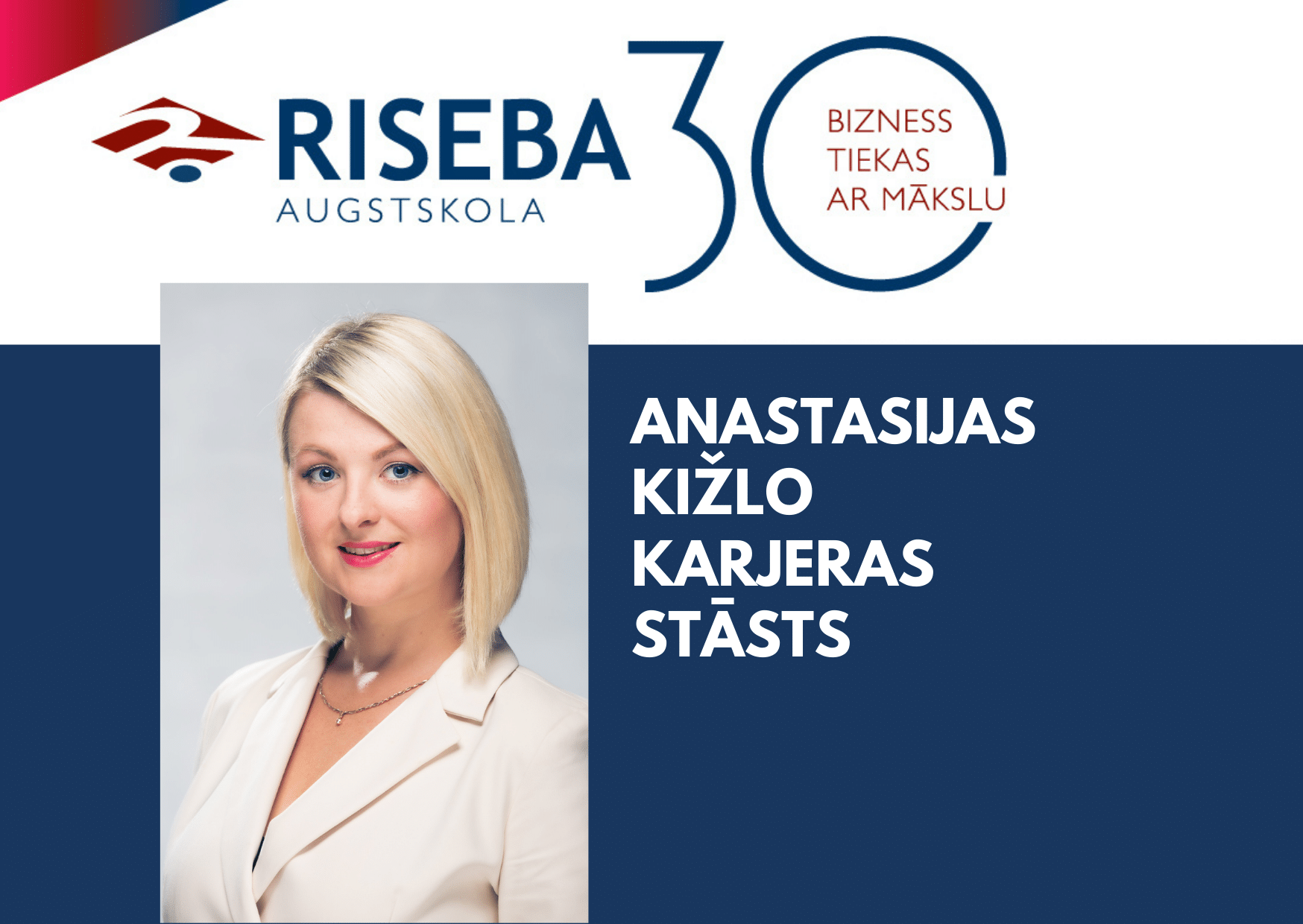 Anastasija Kizlo career story is inspiring: in 5 years, she has become the head of the Study Department from RISEBA's customer service specialist, and is currently studying for a master's degree at RISEBA.
Working at a university encourages further study
Anastasija entered RISEBA University in 2017, taking up the position of a customer service specialist and credit specialist. "I worked proactively, because I was really happy to work, so I wanted to improve regularly," remembers Anastasija, who was appointed the head of RISEBA Customer Service Center 2 years later.
While working at RISEBA, Kizlo, who already had a bachelor's degree, has long thought about the possibility of studying for a master's degree. "As an employee, I also know RISEBA programs from the inside, so the temptation to study further was great. Covid time definitely influenced my choice, it made me rethink my values ​​and true desires. I was also motivated by RISEBA's great experience of online lectures," the RISEBA employee and student of the master's program Strategic Business Management justifies her choice. "Studying at RISEBA helps me not only to acquire the necessary knowledge and expand my horizons, but also to gain inspiration for further work. Studying gives me exactly what I expected – professional advice and knowledge based on the latest research and solutions. I know that I am studying for myself, for my growth. There is no feeling that someone is waiting for me or that I have additional responsibilities. There is a feeling of comfort, a respectful attitude of the lecturers, the studies are suitable for working people."
Intentions of leading the Study Department
In Academic year 2021/2022 Anastasia Kizlo took a new turn in her career at RISEBA – she became the head of the Study Department of RISEBA, who is responsible for the study processes at the university. "This position was offered to me quite unexpectedly, but looking back I realize that it is a quite logical continuation of my career. I intend to complete the implementation of many of RISEBA new systems, as well as to improve the daily work of the department's staff by introducing clear guidelines. I would also like to focus on the realization of the growing wishes of students, the improvement of service opportunities and quality, "the new head of the structural unit shares his intentions.
Students often have various problems related to the study process in their daily lives. Here is what Anastasija, the head of the Study Department, suggests: "The first is definitely the Customer Service Center, where specialists can provide information or advice on a specific situation and issue the fastest. However, if the question is deeper, then you should contact the program administrator, who knows all the nuances and knows the answers to all the questions of a particular student. I would like to remind that you can find out who the administrator of the study program on our website in the section Study department."
Wife, mother and Eco council member
Anastasijan is married and a mother of two. "Of course, being a mother of children and working full-time is already challenging, where else to combine it with studies," says Kizlo. "Also, given that it's all happening at Covid at a time of great challenge, it's certainly not easy and takes a lot of time and patience, but it inspires new things. The most insecure area is the comfort zone – it must be remembered! I believe that a good mother is a happy mother, and the best example for children is parents, so I want my children to see my experience, draw conclusions and be able to make the best decisions in their lives to be happy."
And Anastasija also loves nature – running, swimming, rollerblading, walking in the woods. She also is a member of RISEBA Eco Council. "I joined the RISEBA Eco Council to understand what else can I do for our planet," says Anastasija. "I've been doing a lot since childhood, but I think it's always more exciting together. I would also like to promote the Eco movement among RISEBA students and employees. Here's what I'm doing for the environment right now:
I sort waste;
I think about electricity and water consumption;
I think about paper consumption – I print less;
I participate and organize clean-ups;
I try to buy a product without packaging or choose a product with recyclable packaging;
I donate things to charity;
I do not throw food out – I share it;
I go to work by bicycle, on foot, by public transport;
I try to eat more plant products;
I teach all this to my children and involve friends."
Anastasija Kizlo: "Being a RISEBA student and at the same time an employee has a great experience to achieve an excellent level of service, because the whole process goes through from both sides. It is possible to notice shortcomings and also appreciate the excellent quality of study content and process."
We wish Anastasija success in leading the RISEBA Study Department!