i-Days Hackathon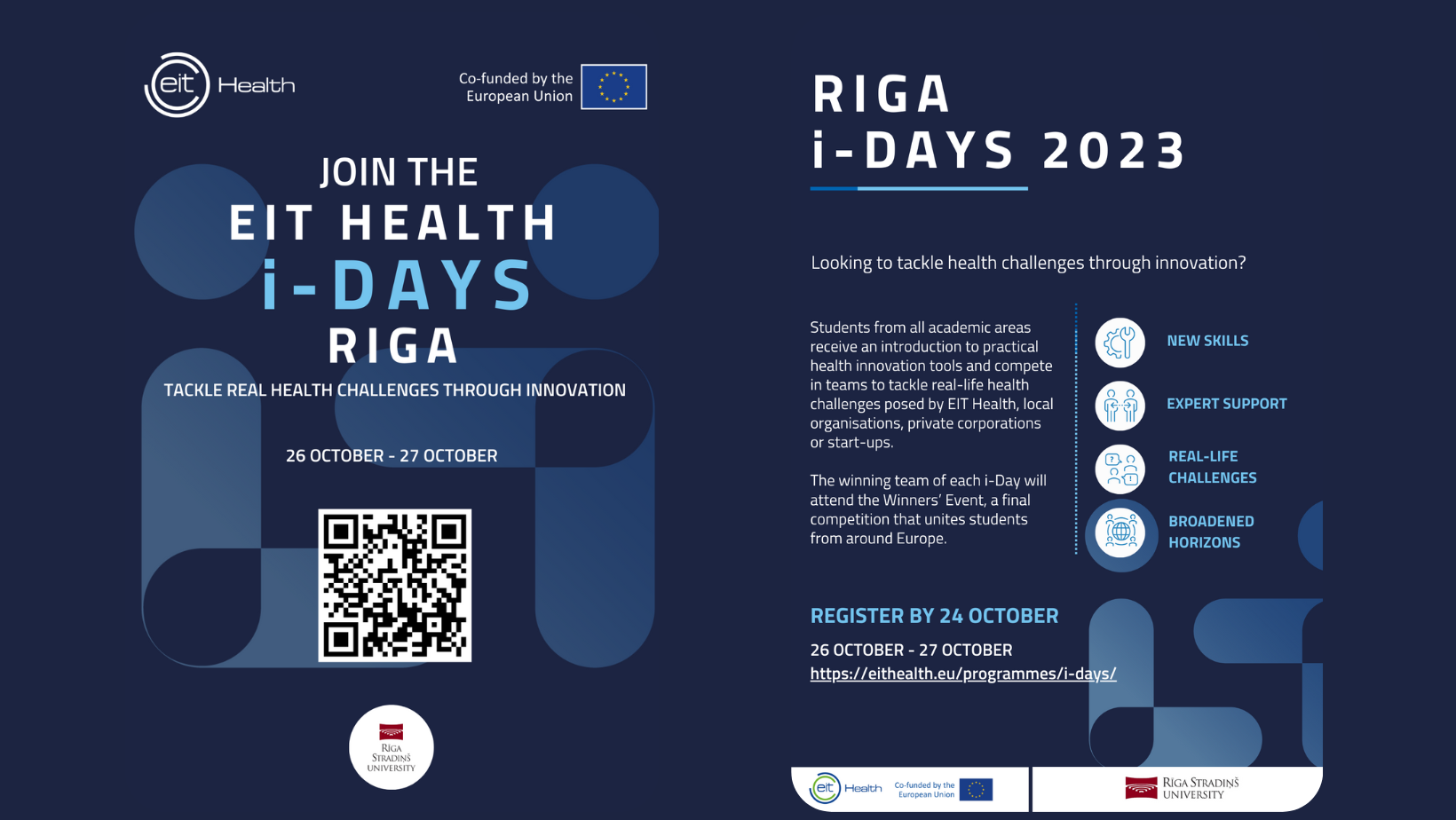 Are you a student interested in healthcare innovations or passionate about improving society's health?
Join the i-Days online hackathon organized by EIT Health and Rīga Stradiņš University on October 26 and 27! Get an introduction to practical innovation tools and skills and develop confidence in innovation, design thinking and idea pitching. Compete to tackle real-life healthcare challenges and get a chance to participate in the finals in Barcelona!
Students from all disciplines are welcome!
Work as part of a multidisciplinary team of bright minds to develop a viable health innovation product or idea. You don't need any previous experience to participate – only passion and enthusiasm for advancing healthcare and improving the quality of life for people in Latvia, Europe and, maybe one day, the entire world.
What's in it for You? The winning team will participate in the i-Days Winner's Event in Barcelona (30 November – 1 December) – a final competition that brings together students from i-Days all across the European Union. Participation in i-Days is a great opportunity to learn and try something new, earn a valuable entry in your CV, receive a certificate of participation and gain access to the wide EIT Health Alumni network of innovators. Get inspired by the story of last year's winners!
Apply now (or until October 24): Application form
* If you wish to be a part of a specific team, in the SURNAME line, indicate the team name in brackets. Example: SURNAME: Bērziņš (Residents No.1). If you do not wish to register as a part of a specific team, just indicate your surname. Your team will be formed during the event.
Choose a challenge and think of solution that interests you!
We will be focusing on what matters to individuals to promote better health and well-being and stopping them from becoming ill.
Challenge 1 – Wellbeing: healthier lives through behaviour change
Solution that can promote a shift in behaviour relating to one or more of the following areas:
– Promoting smoking cessation
– Increasing physical activity and improving nutrition
– Promoting adherence to public health advice and routine check-ups
– Preventing addiction to social networks or online gaming
– Preventing drug abuse and excessive alcohol use
Challenge 2 – Health: healthier lives through tailor-made prevention care
Solution that addresses core medicine topics relating to one or more of the following areas:
– early diagnosis and prevention
– personalized medicine
– convenient monitoring and reporting of health data
– gadgets and apps that enable to live longer healthier life (e.g. diet and weight management, vitamin levels)
– novel bio-based materials or design of biosensors for medical use
For more information, contact us at [email protected]
Note: The event will be held in English.