The title of RISEBA University of Applied Sciences Honorary Professor is awarded for:
Exceptional contribution to education, research and science;
Significant achievements in the arts and business administration;
A significant contribution to the development of RISEBA University College.
The title of RISEBA University of Applied Sciences Honorary Professor is awarded by Senate
On November 26, 2021, Dr. Ivars Godmanis was awarded the honorary degree of Honorary Professor of RISEBA Honorius Causa for special merits in the development of RISEBA. Ivars Godmanis is the director of the RISEBA Master's study program "Big Data Analytics", a member of the RISEBA Senate, a professor and researcher, as a respected colleague and lecturer.
---
Ivars Godmanis bija Latvijas Ministru padomes priekšsēdētājs, pirmās valdības pēc Latvijas neatkarības atjaunošanas vadītājs, pēc tam – Ministru prezidents un ministrs vairākās valdības, Saeimas un Eiropas parlamenta deputāts, A/S "Olainfarm" padomes loceklis un padomes priekšsēdētājs. Savu akadēmisko karjeru Godmanis uzsāka Latvijas Universitātes Cietvielu fizikas institūtā Informātikas katedrā.
Savos izstrādātajos augstskolas studiju kursos Godmanis ietver zināšanas un pieredzi, ko ieguvis savā karjeras laikā – Eiropas Savienības politisko un ekonomisko procesu atspoguļošana un pētīšana, risku vadība, mikroekonomika, inovācijas un start-up, jaunas biznesa platformas.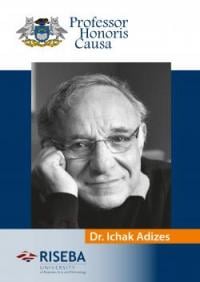 Dr Ichak Adizes was awarded RISEBA Honorary doctoral degree (Honorius Causa) on 22 September 2009 for his outstanding contribution to the development of business and management science, proving the importance of humanistic values in business and presenting exceptionally influential business development models.
---
Dr Ichak Adizes gained international recognition for corporate life cycle, crisis management, business development and change management concepts presented. He is also an author of fairly unique and effective "The Adizes methodology", which is designed to make business more productive and its performance more effective.
RISEBA University Colllege supports deep philosophical approach to business and economy analysis and his strong belief that the education of future leaders cannot be separated from their spiritual growth, putting human values first. Awarding Dr Ichak Adizes with the Honorary doctoral degree, RISEBA University of Applied Sciences acknowledges the intention to promote his ideas in academic, scientific and social activities.
More information HERE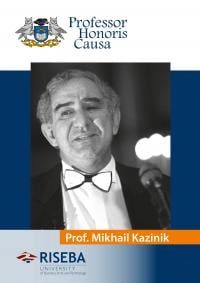 Michael Kazinik is an outstanding musician, social activist and humanist, who brings us back to the universal values of Spirit and Being, focuses on the mind and the desire to achieve harmony and knowledge.
During his every performance he raises the most important questions. He manages to find parallels between scientific facts, art and time. Despite the wide use of new technology in his performances, he stays faithful to the timeless art of playing the violin. This approach unites Michael Kazinik and RISEBA University of Applied Sciences, where business meets arts.
Mr.Kazinik himself is an internationally recognized musician and artist, without any professional or geographical borders, just like RISEBA University of Applied Sciences is "a getaway to international career" for students.
Music is able to cure the human soul, bring peace and harmony. Michael Kazinik leads us towards the unknown and encourages us to go across all the borders because the human mind has no limits.
More information HERE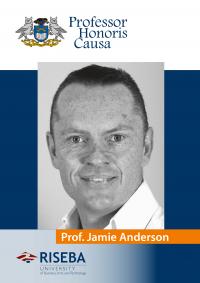 Dr Jamie Anderson was awarded RISEBA University of Applied Sciences Honorary doctoral degree (Honorius Causa) on 11 November 2012 for the development of the modern management concept, which is based on creativity and social needs of the person.
Jamie Anderson represents the new generation of theoreticians and practicians. He is actively searching for new ways of developing entrepreneurship in the changing economic environment. While he is looking for the key to productivity in the 21st century, he shows how now things, which earlier took years, can be now done in months. In his research, he is focusing on strategic management, innovation, creativity and change management.
More information HERE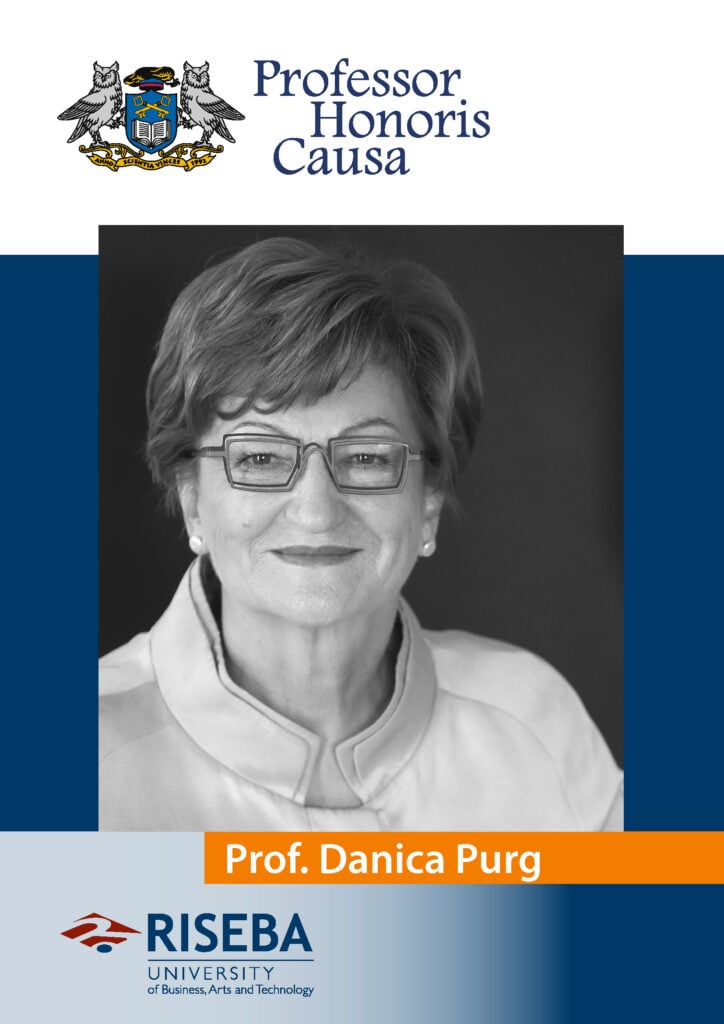 Professor Danica Purg was awarded RISEBA University of Applied Sciences Honorary professor degree (Honorius Causa) on 13 September 2017 for the promotion of a new concept "Art in Leadership" and management education development in Central and Eastern Europe.
Prof. Danica Purg has been an innovator in management education incorporating arts and artistic processes into management education. She is constantly seeking for possibilities to bring the arts and business together believing it is essential for a life full of meaning.
---
Danica Purg is the founder and dean of IEDC-Bled School of Management, Slovenia, since its foundation in 1985. She is the President of CEEMAN – the International Association for Management Development in Dynamic Societies, which includes 220 management development institutes from more than 55 countries around the world and is aimed at fostering the quality of management development. Over 500 faculty members from 43 countries have graduated from its educational programme – International Management Teachers' Academy (IMTA).
In 2013 Prof. Danica Purg was nominated Chair of PRME (Principles for Responsible Management Education) Steering Committee, the initiative started by UN Global Compact.
In 2001, the President of the Republic of Slovenia awarded her with the "Honorary Order of Freedom" for her outstanding contribution to management development in Slovenia and CEE.
More information HERE
On 13 September 2017, Andris Kronbergs was awarded the title of honorary professor Honoris Causa of RISEBA for his contribution to the creation of a new architecture school for RISEBA University of Applied Sciences in Latvia and his influence on its professional content.
Architect Andris Kronbergs is one of the most respected and gifted representatives of the contemporary architecture of Latvia, having been awarded the Grand Prix of the Latvian Architecture Award on a number of occasions for the architecture created by the Architectural Practice ARHIS, which broadly embodies the ideals of the contemporary architecture of Latvia.
---
Andris Kronbergs was the head of the Latvian Union of Architects; he is a member of the Riga City Architect's Collegium. A long-term member of the National Council of Architecture and the current head of it. Also, the head of the inter-institutional Council for the Preservation and Development of the Historic Centre of Riga. One of the heads of the design courses in RISEBA Faculty of Architecture and Design. In 2009, Andris Kronbergs was awarded the Order of the Three Stars, and he has been an honorary member of the Latvian Academy of Sciences since 2013. The name of Andris Kronbergs is included in the Latvian Cultural Canon.
More information HERE